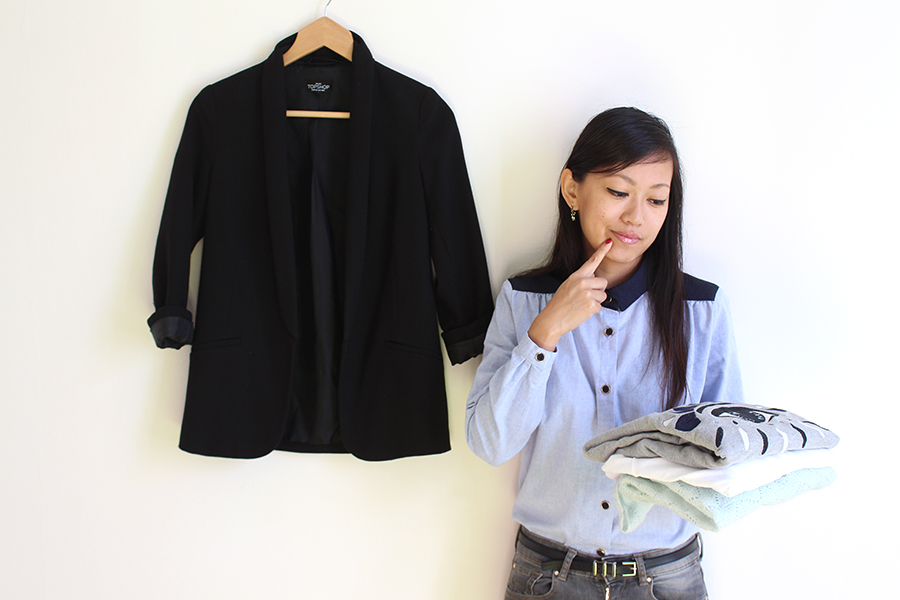 Privilege short items
If you are petite, the objective is to lengthen the body. Try to reduce the bust length and to lengthen the legs. For that, privilege short items.
Wear crop tops and tie your too long shirts and tees around the waist (like here).
Also privilege short dresses and skirts which lengthen the legs by optical effect. It doesn't mean that long dresses and skirts can't be worn when you are a Petite. But you need to respect a few rules : it should be high waist and long enough to reach the ground (example of long skirt worn ici).
Also choose short blazers.
However, avoid short bottoms like culottes or 7/8 pants which break the legs line and contribute to shorten.
Items to privilege : crop tops, dresses, skirts and short blazers.
The waist has to been marked and the highest possible
Always mark the waist (it highlights the silhouette and lengthens it). For this, don't forget to put your tops/tees/shirts inside your pants or skirts.
The waist should also be the highest possible. The highest it is, the more your legs will look long. High waist skirts, dresses and pants are a Petite best allies! An example of high waist dress worn here.
Items to privilege : High waist pants, dresses and skirts.
Choose tight pieces of clothe
Tight pieces of clothe because « large items » tend to shorten. Personally, within a same outfit, I like to balance tight and larger pieces of clothe. For example, if I wear a tight bottom like a skinny jeans, I will balance it with a larger jumper like here. If I wear a large pants like a boy friend jeans, I will pair it with a tight top like here.
Oversize tops are not forbidden to petites, but don't forget to put it into the pants or skirt if it's too long, like here. If they are short, there is no need to mark the waist but you can also wear high heels to heighten yourself like here.
I often wear slim and skinny jeans because I find that it's the design which fit the best to petite body types. But to change, we can also wear boy friend jeans or flare jeans like here.
Become obsessed with verticality
What does that mean?
The title is not explicit so I am going to explain… All the pieces of cloth which bring verticality to the outfit lengthen by optical effect, so we can look taller!  
Privilege all these clothes that bring this vertical effect; shirts with button tabs, cardigans with buttons or zippers, blazers and jackets. And of course, leave our cardigans and jackets opened for this same reason. Example of a denim jacket left opened here.
Items to privilege : shirts, cardigans, blazers, jackets.

Wear all the colors you like
Colors are more a complexion issue. If you are a petite woman, you can wear all the colors you like. However, it's advised to respect a harmony of colors. Indeed, if the top and bottom are from very contrasting colors, the small size will be emphasize in creating a breaking between the bust and the legs. So, opt for monochrome (same color for the top and bottom).
Honestly, I don't really respect this rule because what I like in fashion is the game of mixing different items to create outfits and color pairing is part of it!
Items to privilege : overalls, jumpsuits (example here), dresses (one color only or made of the same fabric).
What about the prints?
If you are petite, it's better to wear small prints, like here (avoid XXL prints). We also try to wear vertical stripes that bring verticality to the outfit and so, lengthen. However, avoid horizontal stripes.
High heels are not compulsory
To look taller, opt for thin shoes with pointed toe. Avoid round and square toe shoes which are not the better kind of shoes to heighten. Moreover, avoid platform shoes.
Babies and T-Bar shoes are not advised too because  they break the legs line by surrounding the ankle.
Say yes to high heels but it's not compulsory. Personally, I am most of the time on flat shoes: I love wearing flats shoes and sneakers.
The accessories, the little thing that make the difference
We wear small jewellry proportional to our body size. 
Items to privilege : long necklaces (example here) or another jewellry that bring verticality to the outfit such as pending earrings.
Concerning bags, I like wearing middle size bags for the every day life. I need a bag big enough to bring everything I need with me. I'm not a kind of « travelling light » girl. However, the bag should not be twice bigger than myself. It's a proportionality issue again!
Don't forget the hairstyle
If you are petite, avoid the hairstyle « long and smooth hair » (my hairstyle in faact) because it shortens. The ideal is to have short hairs and a hairstyle that bring volume. The punk spike is the best hairstyle to wear to look taller.
Concerning the hairdressing, adopt « trompe l'œil » hairdressings like updo buns or high ponytail to win a few centimeters.
And you, what are your petite tips? Don't hesitate to share it with us!